IPWSO Leadership ECHO® 
Videos
Materials from IPWSO Leadership ECHO® are available here. 
Maithé Tauber, Professor of Pediatrics, University of Toulouse and Director of the Reference Centre for Prader-Willi syndrome, France
"New Data in PWS and Perspectives"
Presented at the IPWSO Leadership ECHO on February 8, 2022. Maithé's presentation includes an Overview of PWS; Mental Health; Endocrine and Metabolic Troubles; Scoliosis, COVID 19; and Therapeutic Perspectives. Maithé first gave a brief summary of previously known data, then went on to present new data of her research centre in Toulouse. They are understanding more and more the various genes that are responsible for the features of PWS.
The PDF of this PowerPoint is available here. You can read a summary of the discussion here.
Azhar Talib, President Persatuan Sindrom Prader-Willi Malaysia
"Developing a National Association"
Presented at the IPWSO Leadership ECHO on January 11, 2022. Azhar's presentation illustrated the importance of setting clear Vision, Mission and Objective, the value of having a strategic Roadmap, developing an Action Plan, and how to mobilize, empower and build up a Network. Prader-Willi Malaysia has had great success since it began in 2016 and is a fine example of the impact a PWS Association can make.
The PDF of this PowerPoint is available here. You can read a summary of the discussion here.
Anthony Isles, Professor of Molecular and Behavioural Neuroscience, Cardiff University, UK
"How basic science research is advancing our understanding of PWS"
Presented at the IPWSO Leadership ECHO on November 30, 2021. Anthony's presentation gave us an understanding of what basic research with cell or animal models can tell us about PWS, and how this can help inform therapeutic developments, and gave us an appreciation of the limitations of cell or animal research into PWS.
The PDF of this PowerPoint is available here. You can read a summary of the discussion and the Q&A here.
Diane Webster, Research Director, PWRFA, Australia
"Improving clinical trial participation"
Presented at the IPWSO Leadership ECHO on November 30, 2021. Diane's presentation helped us to consider how we might accelerate the development of new drugs for PWS by improving enrolment in clinical trials. We discussed the barriers to trial participation, expanding our recruitment pool, what's working well, and the importance of finding the right trial.
Please click here for a PDF of the PowerPoint. You can read a summary of the discussion and the Q&A here.
Diane also referenced a talk by Nathalie Kayadjanian on "Clinical Trials for PWS" as an excellent resource if you would like to learn more about the topic. 
Gina O'Brien, Utah, USA
"My sibling experience"
Presented at the IPWSO Leadership ECHO on November 2, 2021. In this session, Gina discusses her experiences growing with her wonderful brother, Ashley, who lives with PWS. They have a very special relationship which they maintain long distance using Facetime to talk. Ashley loves when Gina shows him animals like her dog, and they sing along to songs that Gina plays on her ukulele.
In this session Gina reveals that whilst life has not always been easy, she would not change Ashley for the world!  He has been her teacher. He has enriched her life and made her thankful and appreciative of the small things – which go unnoticed by so many of us. This is an inspiring story of a very special bond.
Please click here for a PDF of the PowerPoint. 
Marguerite Hughes, IPWSO Chief Executive Officer, Ireland
"The role of national PWS Associations in improving the lives of people with PWS and their families "
Presented at the IPWSO Leadership ECHO on October 5, 2021. Marguerite's talk covered areas including; The roles of PWS associations; Key concepts to consider; Common challenges facing PWS associations. Together we are stronger and finding support from your PWS Association can feel like you've found your second family. Some of the challenges that came out in the discussion were how to plan and achieve long term goals, define the needs of the community, and find a shared understanding of priorities. It's important to consider how you make an organization sustainable over time, and measure its impact.
The PDF of this PowerPoint is available here.
James O'Brien, Chair, PWS Australia LTD
"Reaching out across Australia: Bringing State associations together with a united vision "
James O'Brien, Chair, PWS Australia, discusses the challenges and motivations that brought State associations across Australia together to investigate amalgamation. James describes how the newly formed PWSA Ltd developed their vision, mission, values, and structure and is now setting about building organisational and individual capacity.  Their current and future plans are innovative and ambitious and are underpinned by the UN Convention on the Rights of People with Disabilities.  Download a pdf of this  presentation
Hana Verichova, Head of Prader-Willi Czech Republic
"Reflections on Prader-Willi Czech Republic"
Hana Verichova, Head of Prader-Willi Czech Republic, reflects on the organisation since its establishment in 2003; a few parents with little experience gave their free time to reach out to others. Hana describes how, by raising public awareness of the syndrome through the media, older people, previously undiagnosed, were identified and consequently supported. The importance of networking, attending conferences, engaging with other bodies such as IPWSO and rare disease organisations, has been invaluable.  In January 2021 the organisation opened the first group home for people with PWS in the Czech Republic. Download a pdf of this presentation.
Berit Otterlei, PWs Norway
"PWS Norway – Still going strong after 35 years!"
Inspired by her daughter, an adult with PWS who, as a tandem cyclist, recently conquered a mammoth 85km trek, Berit Otterlei advises newly established groups: –
be goal driven,
take one step at a time,
reach out for support,
do not be overwhelmed by comparing your starting point with that of others, and
believe that everything is possible!
Berit describes some important factors needed to build a successful PWS organisation. Download a pdf of this presentation.
Anne Sakaris, Tasmania, Australia
"Managing Emergencies"
Anne Sakaris is a parent of an adult with PWS. Anne lives in Tasmania and has been involved in the establishment of a support network for families of children with PWS for over 10 years; she continues to be a contact point and to provide training sessions in the State.
In this session, Anne demonstrates how the effective management of an emergency starts with how we, as advocates and carers for people with PWS, respond in a challenging situation, and how in order to respond effectively, we need to have a well-resourced, accessible, emergency tool kit close to hand, and built with the involvement of the person with PWS in quiet, reflective times. Using the Emergency Management Cycle model, Anne considers the four key elements of Emergency Management – preparation, response, recovery and mitigation.
Anne references some helpful resources to include in your toolkit:
This presentation will provide encouragement and hope to all those facing challenging situations as well as essential information for those who mentor others on this journey.
Elizabeth Fistein, Psychiatrist and Clinical Ethicist
"Ethical principles: managing individual choice and the risk of harm when supporting people with PWS".
Elizabeth Fistein is a Psychiatrist & Clinical Ethicist, medical educator, and researcher, with a particular interest in issues concerning consent to medical treatment and potential justifications for treatment in contexts where consent cannot be given. Elizabeth is a member of the IPWSO Policy Committee and is currently working on a project using 'empirical ethics' to develop guidelines on the use of potentially restrictive practices to manage risks associated with hyperphagia in PWS.
In this session Elizabeth examines the four principles of bioethics and how they might apply when considering the person with PWS.  Elizabeth discusses approaches to autonomy and how this varies over time and across cultures. She then considers various legal frameworks, including the UN Convention on the Rights of Persons with Disabilities, that might assist us in thinking about the inherent tensions and different ways of balancing these principles.  A pdf copy of Elizabeth's presentation can be found here.
Our Challenge, presented by Marguerite Hughes, CEO, IPWSO, highlighted a potential dilemma for a person with PWS and their family and carers, of a desire by the person with PWS to learn to drive.  A summary of the discussion can be found here.
Maria Guilia Marini, Healthcare Area, Fondazione, ISTUD, Italy
"Narrative Medicine Research – PRAXIS – Prader-Willi eXcellence in care with Story taking".
Very many thanks to Maria Giulia Marni and colleagues, whose presentation highlights the need to better understand and respect the various intelligences that are evident in people with PWS. This research, conducted by ISTUD, illustrates how many people living with PWS are progressive, open to positive futures and have aspirations that challenge us to respond in new ways. Maria also considers the role of the carer, the impact of COVID, and medical perspectives.  A pdf copy of this presentation can be found here together with the BMJ publication: "Caring and Living with Prader Willi syndrome in Italy: integrating children, adults and parents' experiences through a multicentre narrative medicine research". This is an open access document.
---
Chris Smith, Senior Paediatric Dietitian, Royal Alexandra Children's Hospital, UK
"PWS Dietary Management"
In this session Chris Smith, a paediatric dietitian with over 18-years' experience in clinical dietetics, presents on PWS dietary management.
Chris emphasises the importance of maximising the benefits of good nutrition and growth and minimising the risks that may be associated with poor nutrition or sub-optimal growth.  His passion for his job is clear. Seeing the results of good nutrition in clinical trials, as evidenced by the statistics, gives him great satisfaction and encouragement, however the real joy is in witnessing the development and growth of his patients over weeks, months and years as they benefit from the application of this knowledge and understanding.
---
Flaminia Macchia, Executive Director and Hlawulani Mkhabela,Outreach and Engagement Manager, Rare Diseases International
"International Advocacy and Global Collaboration for rare diseases"
At this session, Flaminia Macchia, Executive Director and Hlawulani Mkhabela, Outreach and Engagement Manager, discuss RDI's vision for a world where PLWRD and their families experience a better life through better recognition and support, improved health and social services. Specifically, Flaminia and Hlawulani consider how RDI:
advocates for rare diseases as an international policy priority,
represents PLWRD and their families at international institutions and fora, and
work to enhance the capabilities of members, such as IPWSO, through knowledge exchange, networking, mutual support and joint actions.
---
Larry Genstil, PhD, Psychologist, Israel
"The child with PWS in the school"
"This talk has to be presented and discussed with every parent, kindergarten school, and caregiver who has a person with PWS in their care".   
High praise indeed from a participant at Larry Genstil's presentation on "The child with PWS in the school.  In this session Larry provides a comprehensive overview of how to create a highly structured and consistent school environment to best fit the needs of the child with PWS.
Read more about the topics Larry addresses and the discussion that followed which provide valuable insights and links to helpful resources.
---
Elizabeth Dykens, Vanderbilt University, Tennessee
"Food is a poisonous drug" – what young people with PWS think about living with and curing their syndrome.
People with PWS have important perspectives to share about themselves, their syndrome and future treatments.  Themes around hunger, food, anxiety, behaviour, new medicines, cures, acceptance of the syndrome, public awareness and advocacy are explored in a qualitative study undertaken by Elisabeth Dykens and colleagues, Elisabeth Roof and Hailee Hunt-Hawkins. The insights offered by people with PWS stand to deepen our understanding of the PWS phenotype and to inform future clinical trials.
---
Nathalie Kayadjanian, Independent Consultant and Expert in Translational Biomedical Research for Rare Diseases
"Clinical Trials for PWS"
This presentation provides us with an understanding of clinical trials – the terms, concepts and the drug development process. Nathalie focuses on PWS and provides an overview of the active drug trials for hyperphagia and behavioural challenges and considers the HQ-CT as a measure for hyperphagia in PWS. The opportunities, difficulties and lessons learned are explored. Nathalie concludes by highlighting the crucial role that caregivers play in the process, and in ensuring that clinical trials are made possible.
---
Tony Holland, President, IPWSO
"Fostering links with services in your country and acquiring knowledge to prevent and manage behaviour and psychiatric problems"
Tony asks the question about how we as leaders in PWS in our countries might help develop the services and supports that are needed to prevent, detect, manage and treat people with this syndrome.  Some countries have well developed systems, others less so. However, by sharing experiences through the IPWSO ECHO® Leadership Sessions we can all learn from each other and help map a way forward.   
Essential components are explored including accessing to knowledge for health professionals, educationalists, parents and the wider community, access to guidance to enable understanding, and access to professional support.
Tony poses some questions that we might ask of our decision makers, such as whether a "Rare Diseases Plan" exists – an expectation of the World Health Organisation for all governments – and, if that plan does exist, does it recognise PWS?
---
Georgina Loughnan, 

Prader-Willi syndrome Specialist Clinic, Metabolism and Obesity Services
"Integrated Clinical Care for People with PWS"
Georgina reflects on her 30-year career working with people with PWS and how she and others set about establishing an integrated clinical care facility – the PWS Specialist Clinic, Metabolism and Obesity Services – at the Royal Alfred Hospital, New South Wales, Australia. This is more than just a clinic; it is a centre for developing expertise, research and training, a knowledge hub – providing guidance to other medical specialism on the management and treatment of people with PWS –  a provider of holistic care, and moreover, for people with PWS and their families, it is the go-to place in times of difficulty.
"Take me to the Royal Alfred – they understand me!"
Georgina provides us with insight into a model that may work in your country and advocates not to be deterred by a lack of funding or setbacks. Start small, find a willing doctor or clinician and build their expertise, knowledge and service, by encouraging others to use the same professionals.
---
Lynn Garrick, 

Programme Director for AME Community Services, Minnesota, USA
"Meaningful Work for people with PWS"
Lynn reflected on her attendance at an IPWSO Conference in Germany and how she and colleagues were inspired to establish the 'Harmony Farm and Garden' which provides meaningful work for adults with PWS in Minnesota.
The subsequent discussion and challenges provided some useful insights into other countries and their approach; François Besnier, PWS, emphasises the need for social inclusion in his report.
---
Susanne Blichfeldt M.D, Denmark


"Supporting Young Children with Prader-Willi syndrome and their Families"
Susanne Blichfeldt, neuropaediatrician and parent of an adult with PWS, focuses on how best to support a child with PWS in the family and wider community. Susanne highlights the importance of effective communication with siblings, grandparents, neighbours, educationalists, clinicians and allied professionals. The "gift of play" is emphasised and the pleasure of watching the child develop, seeing the child happy and healthy in a supportive family environment, and the satisfaction of knowing that carers are doing their best, is all achievable once there is agreement to the strict adherence of ground rules.
The "Challenges" presented by representatives from Spain and Romania reflected the difficulties faced by new parents and families after a diagnosis of PWS and illustrated how, even within countries, equality of access to treatments and social and financial support varies. This is a common experience across countries; participants discussed the need to develop "Best Practice Guidelines" as a starting point in any campaign to influence change.
---
Professor Nick Finer, UCL
"Virtual clinics in the COVID-19 era and beyond"
In this session Professor Nick Finer explores how technology can be used to good effect in the delivery of healthcare through virtual online clinics and how COVID-19 has accelerated the need for new ways of thinking about practices. This is especially relevant when we consider rare diseases and how we, as leaders in PWS, might harness the opportunities and address the challenges presented in this fast-changing environment for the benefit of people with PWS.
---
Copyright and other intellectual property rights in the speakers' papers and presentations remains the sole property of each speaker and IPWSO has the right to use and broadcast such papers and presentations under licence. Copyright in the recording of the ECHO® session remains the property of IPWSO. No participant or any other person has the right to reproduce the recording, or any paper or presentation, in whole or in part, without the written consent of IPWSO.
The information contained in the multimedia content (video content) posted, represents the views and opinions of the original creators, and whilst IPWSO requests presenters to use content that is evidence-based and peer reviewed, the video content does not necessarily represent the views of IPWSO. The mere appearance of video content on this site does not constitute an endorsement by IPWSO or its affiliates of such content.  The content has been made available for informational and educational purposes only. The content is not intended to be a substitute for professional medical advice, diagnosis, or treatment. IPWSO hereby disclaims any and all liability to any party for any direct, indirect, implied, punitive, special, incidental, or other consequential damages arising directly or indirectly from any use of the video content, which is provided as is, and without warranties.
International Community
IPWSO was established so that PWS associations, families, clinicians and caregivers around the world could exchange information and support and have a united global voice under one umbrella.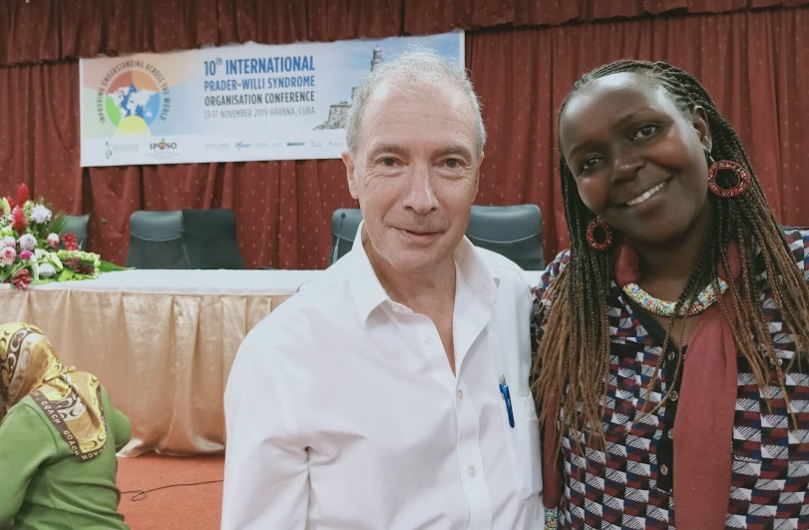 Information for Medical Professionals
The latest medical and scientific research and information, plus guides into common medical issues affecting people with PWS.
PWSA | USA Medical Alerts
Medical Alerts in your language