10th International Prader-Willi Syndrome Conference
Havana, 13-17 November, 2019
The local hosts for the event were the Cuban Society of Human Genetics (SOCUGEN).
This was IPWSO's 10th international Prader-Willi syndrome conference. We hold these meetings every 3 years, each time in a different country. The conference was divided into four streams: Clinical and Scientific, Parent and Family, Professional Providers and Caregivers, and Activities for People with PWS. This time, significantly, our conference was held in Havana, Cuba. Cuba has been an important part of IPWSO's large 'family' of 105 members and the progress made by a few families and dedicated professionals is fantastic.
​We were joined by 500 delegates from 43 countries worldwide, including 200 people from Cuba.
​Highlights for us included a really strong Scientific programme, a huge interest in the Caregivers' programme (we needed a bigger room!) and the enthusiasm and interest of the Cuban families.
​Our President Tony Holland, was interviewed by the BBC along with Loisel Bello, one of our key Cuban organisers and some of the Cuban families. The story was broadcast on 26th December 2019.
The Latin American group of specialists
This conference was our first to be held in the Spanish speaking world and our Board member Amalia Balart brought together the Latin American delegates for a really productive and exciting meeting on the Friday of the conference. We hope this group will continue to flourish.
Looking forward to 2022!
The conference ended in the traditional way with our General Assembly and the vote to choose our next conference location. We were delighted to receive strong bids from India, Ireland, Malaysia and Thailand. Ireland was voted in first place and we are already working with their team to plan for July 2022.
Celebrating the IPWSO travel scholars!
Thanks to funding from the Friends of IPWSO (USA) we were able to offer financial assistance to 11 delegates to attend the Cuba conference. Many people applied for this funding and we were sorry not to be able to support more of them. The delegates came from countries around the world including Georgia, Mexico, Bulgaria and India and also came from diverse backgrounds including professionals and families.
​Amongst the travel scholars was Esther Maina PhD who travelled to Cuba from Kenya (Esther is pictured here with Tony). Esther has been concerned about the lack of PWS diagnosis in the East African region and has been working with paediatricians in Kenya to find out more about the true reality for children with PWS in the area. Esther told us, "Attending the 10th IPWSO conference was most enriching for me personally and as a scientist… The sessions enabled me to foster discussion and strengthen connections between myself and my proposed research work and the other participants, with the aim of establishing a support group for the parents and care givers back in Kenya."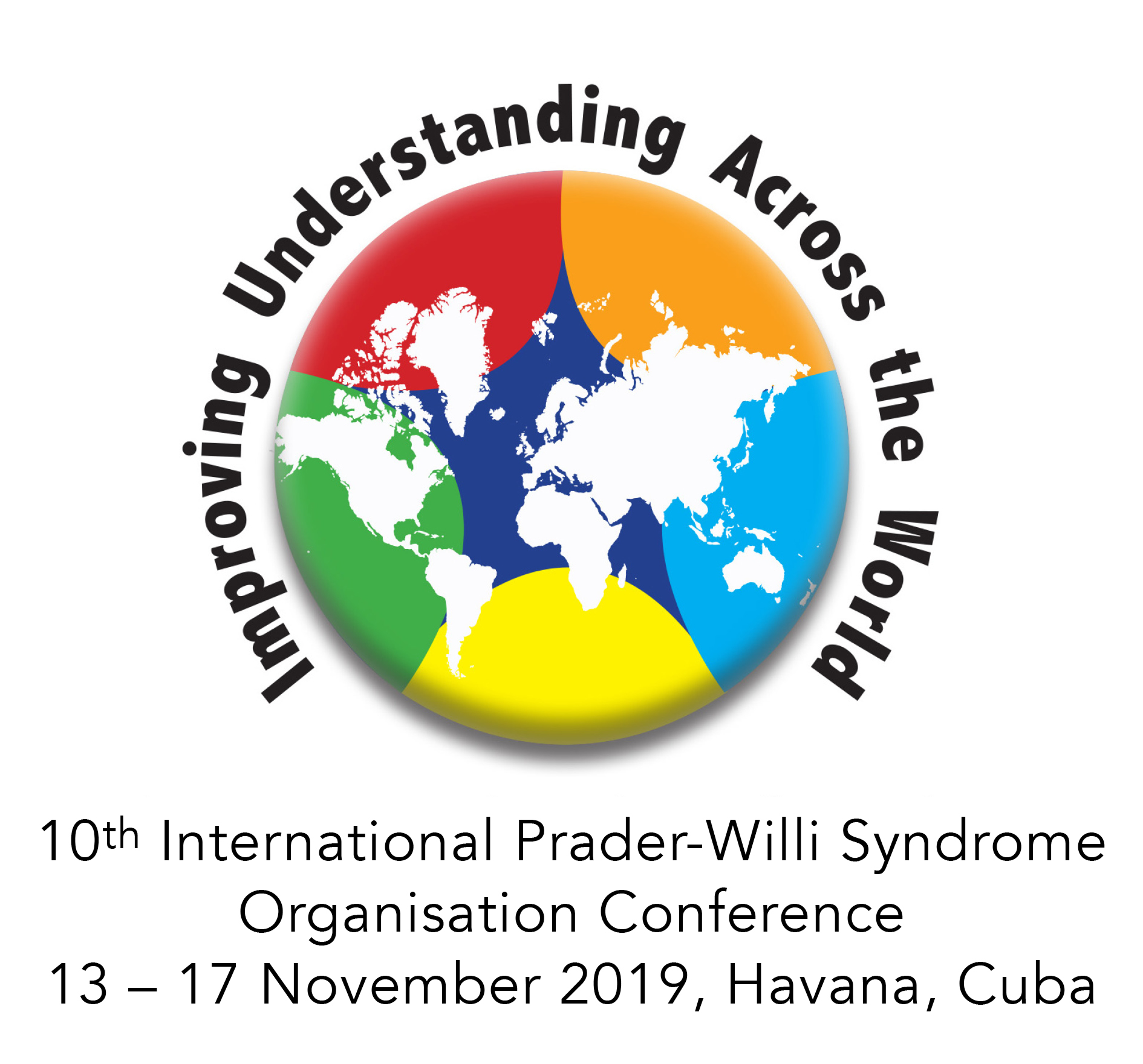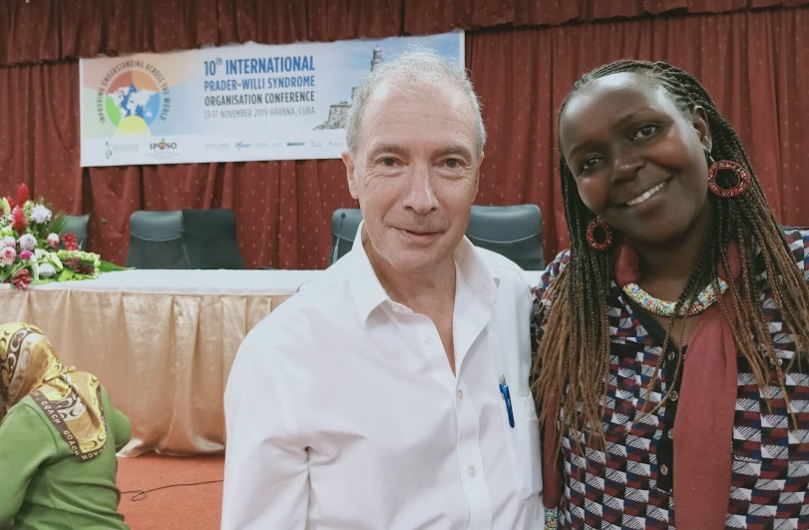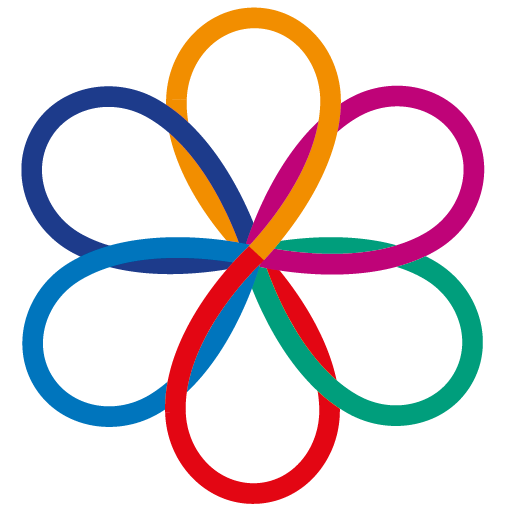 IPWSO Conference 2022
View programme booklets from the 11th International Prader-Willi Syndrome Organisation Conference!
6-10 July 2022 at the University of Limerick, Ireland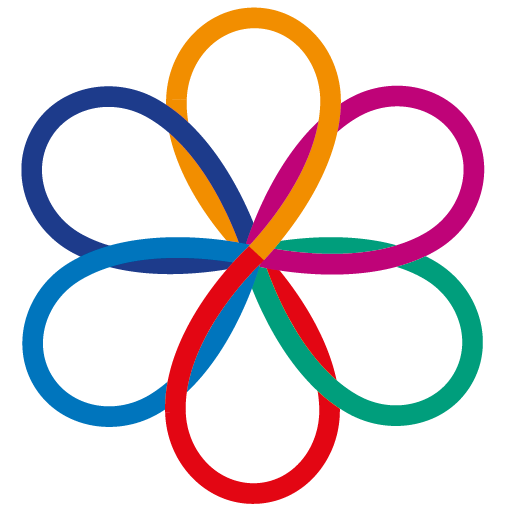 Make a donation
​We cannot provide these services without your support. Please consider making a donation.
Scholarships
Depending on availability of funds, IPWSO offers scholarships to attend our conferences. Contact us to keep up to date with conferences, workshops, meetings, and scholarship grants.
Future conferences
Has your Association thought about hosting an IPWSO conference? In the past these have been held in the Netherlands, Norway, Italy, USA, New Zealand, Romania, Taiwan, UK, Canada, Cuba and most recently Ireland. If you are interested in hosting a future conference in 2025 or beyond do get in touch. The deadline for proposals for 2025 is 31 January 2023.
International Community
IPWSO was established so that PWS associations, families, clinicians and caregivers around the world could exchange information and support and have a united global voice under one umbrella.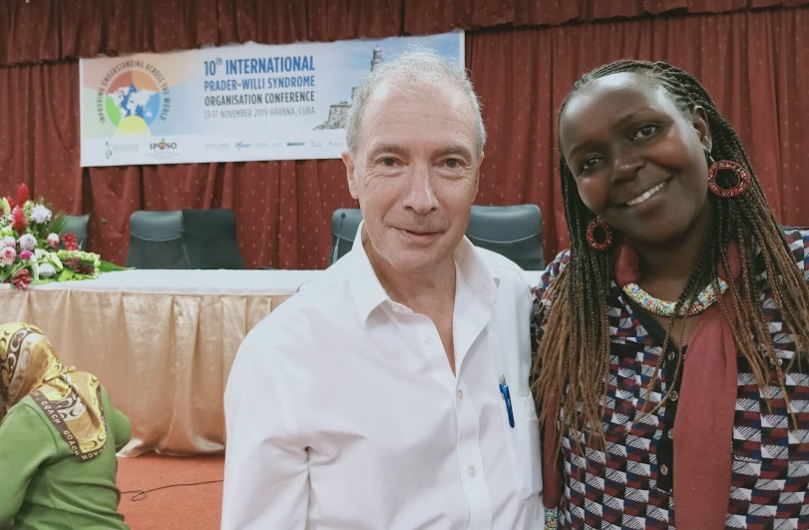 Information for Medical Professionals
The latest medical and scientific research and information, plus guides into common medical issues affecting people with PWS.
Find support in my country