Fertility, sexuality and sex hormones
Infertility was believed to be a characteristic of all adults with PWS until 1999, when for the first-time a pregnancy was reported in a woman with PWS who had a deletion 15q. Subsequently another four women with PWS becoming pregnant have been documented worldwide. At least two of the children have normal chromosome 15, but at least two of the children have Angelman syndrome (AS). Little clinical information is available about the children, but a follow-up of the first case with AS was published 2015. In the publication it was described that the typical characteristic for AS became less prominent in adolescence. Instead, typical characteristic PWS was developed.  As of writing, there have been no reports of fertility in men with PWS.
Hypogonadism with low levels of sex hormones (estrogen in women and testosterone in men) is very common in PWS. A complicated interaction between hormones from the hypothalamus, the pituitary and the ovaries in women or the testes in men, regulates the levels of sex hormones. A normal level of hormones and a normal function of involved glands is necessary for sexual development and fertility. Thus, a dysfunction in any of these glands will result in hypogonadism and decreased/absent fertility. Moreover, sex hormones are important for the  growth spurt in puberty , for development of secondary sexual characteristics, body composition bone mineral density and quality of life.
Despite the known hypothalamic dysfunction in PWS, recent studies have shown that the hypogonadism is also caused by an impaired function of the ovaries and testes. Therefore, the flaw may lie along the continuum from complete primary (ovaries/testes) hypogonadism to complete central (hypothalamus/pituitary) hypogonadism.
In women with PWS this can lead to delayed menarche (first menstruation), absent or infrequent ovulations, absent or irregular periods, and infertility/decreased fertility. Most women with PWS are infertile, but the hormonal levels required for potential fertility are present in some. In men with PWS viable spermatozoas (necessary for fertility) have not been described, in some possibly a function of undescended testes if not corrected early in childhood, either by hormone treatment or operation, so that the testicles can be examined. In both genders obesity or being overweight can lead to or further impair hypogonadism and infertility presumably due to the production of oestrogen in fat cells hampering the function of the hypothalamus and the pituitary. Similarly, treatment with estrogen and testosterone suppress the secretion of hormones from the hypothalamus and pituitary. Conversely, a significant weight loss or change in medication might increase the hormone levels; there are reports of fertility in some women on serotoninergic agents, like fluoxetine. However, the presence of menstrual periods whether induced by treatment with estrogen or of natural onset in young women does not indicate fertility, unless ovulations occur. Of note there is evidence to suggest that some psychotropic medications interact with gonadal steroids at the level of the cytochrome P450 enzymes in the liver.
Fertility is best evaluated by measuring the relevant hormones. Typically, in adults with PWS the pituitary hormone FSH will be high in both genders, oestrogen will be low in women and testosterone will be low in men. However, dependent on which hormone-secreting gland is not functioning appropriately, different hormone levels can be seen. For example, undetectable levels of the hormone inhibin B (from ovaries/testes) are associated with infertility and detectable levels with potential fertility. In most adults with PWS inhibin B is undetectable, but in some women detectable levels have been found and fertility might be possible. In principle, study of the ejaculate can completely rule out fertility in men, but due to sexual dysfunction, cognitive and behavioural problems, obtaining ejaculate is usually not feasible. It is unknown what percentage of men with PWS are capable of an ejaculation, but the Clinical and Scientific Advisory Board (CSAB) of IPWSO knows of two men with examination of ejaculate, both negative for sperms.
Sex hormone treatment is not feasible for all. Fertility will not be gained by treatment with estrogen or testosterone, but in both genders sexual hormone replacement may be important for developing an adult appearance, for bone mineral density and muscle and organ function, altogether leading to an improved quality of life.
Before initiating replacement of sex hormones, blood tests  measuring relevant hormones are needed. Potential benefits and risks must be balanced. In women, the well-known risks of thromboembolism especially with overweight, breast cancer and mood variations have to be considered. In men, attention has to be paid to the effect of testosterone on mood and behaviour, which may be dose related. An individualised approach to hormone therapy is key. The optimal level of testosterone or oestrogen in PWS might not be to achieve the levels defined as normal range. For many lower doses of sex hormones are sufficient to obtain the positive effects of the treatment. Treatment must be carefully monitored and adapted to the patient starting with low dose. In men, it is important to progress treatment gradually. Parents and caregivers should be carefully informed, especially about the body changes in men (face and body hair, deepening of voice, etc).  In women, those caregivers need to understand the important distinction between treatment of hypogonadism and birth control management.
Despite the hypogonadism, many adults with PWS, but not all , can  express strong romantic thoughts and tell about  or show  interest in sexual experiences. Some, both women and men, express fantasies of getting married and/or having children, often mirroring these desires by playing with dolls as adults. Their interest in creating a family may coincide with the birth of a niece or nephew, or when they experience their parents becoming grandparents and showing intense interests in the grandchildren, and perhaps seeing those more often than their son/ daughter with PWS. Fertility in PWS raises many medical and ethical issues and appropriate anticipatory guidance, counselling and education is important
Romantic relationships may be perceived in many different ways by persons with PWS, and it is important to discern fantasy from a more actionable situation. Some may claim to be engaged to be married (for example to a well-known pop star) and indicate that a marriage date has been set, even though they have minimal contact with or personal knowledge about the identified person. Others may have a real girlfriend or boyfriend and describe a dating relationship of variable intensity; they may be content to display affection through telephone contact, hand holding and kissing without actual sexual contact. A few may enter into what can be described as a serious relationship that might include sexual intercourse. Especially if the partner does not have PWS. First, it is important to evaluate their level of understanding of sexual function and "where babies come from." Second, their understanding of the rules and responsibilities, boundaries, and personal safety around sexual behaviour must be explored. Finally, their knowledge of the risks of sexually transmitted diseases must be assessed. Equally important is the need to ascertain whether sex is being exchanged for food or whether the person with PWS is being taken advantage of sexually. If this is discovered, a referral to the proper agency for investigation is required. Finally, individuals with PWS can  display interpersonal conflict in their relationships. They may have difficulty sharing, meeting the expectations of others, or making empathic connections. Their level of emotional maturity may not be conducive to the level of judgment, commitment, and intimacy necessary in a marriage, even with the help of parents or guardians. Another complication to relationships reflecting poor judgment in PWS is stalking behavior or erotomania, which is a delusional attachment where a person believes another is infatuated with them. Finally, some (often women with PWS) are paid with food for sexual activities.
When young adults with PWS express a desire to have a baby this idea can be looked at as an  early psychological stage of the family romance, such as playing with dolls. This wish can be acknowledged, discussed, and addressed through counselling. It is often managed through substitution, such as having a doll, being involved in the lives of nieces and nephews, being directly supervised in activities with small children, or accepting that not all adults in society have children. When the desire for a baby is complicated by actual fertility, it may be difficult for the woman with PWS to accept the use of contraceptives. In these cases, anticipatory guidance requires the involvement of the parent or guardian. Family, religious and social values should play a major part in these discussions.
Articles and narratives of the five pregnancies in women with PWS suggest that the gestations and deliveries were uncomplicated. Three babies were delivered by planned caesarean sections. All of the mothers were unable to breast feed and bond with the children, and the infants were cared for by others, most often relatives. Common for all was also an incapacity to put the needs of the child ahead of their personal needs and desires, especially about food.
The genetics of the children born to mothers with PWS has varied. Theoretically, the chances of a fertile woman with PWS having a healthy baby depend on what genetic type of PWS she has. A woman with maternal uniparental disomy (UPD) is likely to have a healthy baby (if the father is healthy with normal development). A woman with a deletion has a 50% chance of having a baby with Angelman syndrome.
There are no known cases, yet, of a male with PWS fathering a child.
In summary:
Sex hormone replacement can be important and a treatment option that should be considered

Sex hormone treatment is not feasible for everyone and an individualised approach is 

important also concerning dosages, in most cases it is best given in a lower than normal dose

Fertility is not gained by treatment with sex hormones

Assessment of fertility/pregnancy for those in sexual relationships

Care should be taken to prevent exploitative relationships and the prevention of sexually transmitted diseases

Much more knowledge is needed
Page updated November 2020.
International Community
IPWSO was established so that PWS associations, families, clinicians and caregivers around the world could exchange information and support and have a united global voice under one umbrella.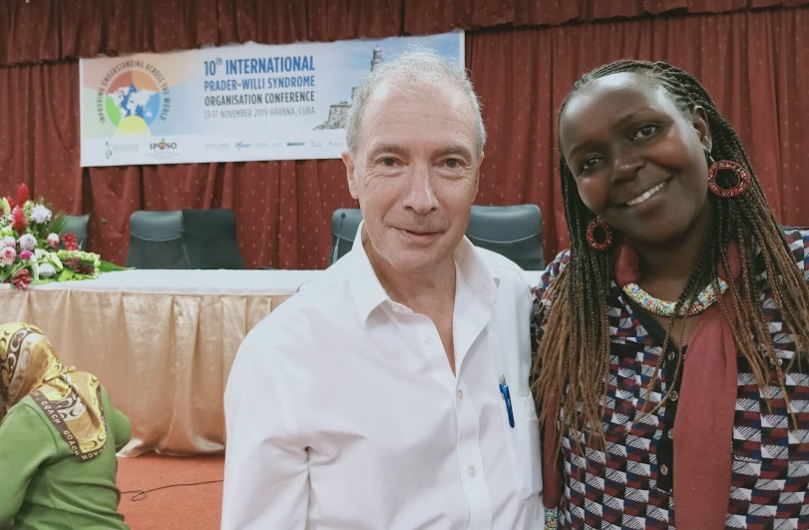 Information for Medical Professionals
The latest medical and scientific research and information, plus guides into common medical issues affecting people with PWS.
Find support in my country