We are very much looking forward to welcoming you to IPWSO 2022.
We've outlined a few housekeeping details and provided some information below that will help you over the course of the event. If you have any queries or need assistance, please don't hesitate to contact the IPWSO 2022 Team.
Registrations
Registration will take place for most delegates in the University Concert Hall. Registration will open from 14:00 to 20:00 on Wednesday 6 July. Check out IPWSO 2022 At A Glance for all other times.
Delegates attending these programmes can register as follows:
the Mental Health Workshop (fringe meeting) – Castletroy Park Hotel, from 12:00 on Wednesday 6 July.
the Stepping UP Adults Symposium – Kemmy Business School,
the Children's Programme – Castletroy Park Hotel.
Please arrive in good time to register as for some programmes, you will need time to reach the appropriate meeting room.
 Meeting Rooms
Check out IPWSO 2022 At A Glance for the location of your meeting:
In the University Concert Hall Building: University Concert Hall, FG-042 (Ground Floor, University Concert Hall Building),  FB-028 (Basement Floor, University Concert Hall Building)
In the Main Building: C1060, C1061 and Jonathan Swift Theatre
In Kemmy Business School: details will be available on arrival.
Please ask a volunteer for directions and follow the internal and external signage
As UL is a Green Flag Campus, minimal temporary external event signage is installed. We advise you to use Google Maps and the links below to locate the meeting rooms and parking:
Google Map link to the University Concert Hall Building https://g.page/UniversityConcertHall?share 
Google Map link to the nearest free car park (Western Car Park) https://goo.gl/maps/wUjJ8HnaXM5HMixEA
 Conference Programmes
Each programme is available on the IPWSO 2022 website and on the Conference App and there will be schedules in your delegate pack. It is a busy programme and so the Meeting Chairs will need to keep things on track. If you are an observer at the Clinical and Scientific Meeting, please help by directing your questions through the Parents Conference, and we will happily have these addressed for you.
 Social Programme
Wednesday 6 July, 19:00 – 21:00: Welcome Reception, the Stables Club, University of Limerick. This is a BBQ. 
Friday 8 July, 19:00 – 00:00: Gala Dinner, the Castletroy Park Hotel. This is a ticketed event and is now sold out. (Dress – smart casual).
Friday 8 July, 18:00 – 19:00: Reception for IPWSO Member Associations, the Castletroy Park Hotel.
Saturday 9 July, 16:45 – 17:30: Drinks Reception for Interdisciplinary Conference Delegates. This is kindly sponsored by PWSAI.
Saturday 9 July, 19:00 – 21:00: Social Event, the Stables Club, University of Limerick. Traditional Irish Music and Dancing. This is kindly sponsored by PWSAI. (Please dine before attending as food is not part of this event).

Information for those displaying posters and/or presenting an oral
Check out the website for guidelines on poster set up and times to meet with the audio-visual technicians at the University.
WIFI
At the University of Limerick, Your mobile device will pick up a network called UL Guest. Click on this network and choose the 7-day access option and enter the details required (email etc.). You will then be connected to the on-campus WiFi.
Join Us On the IPWSO 2022 App
We are delighted to offer our IPWSO 2022 app, designed to enrich your experience of  our conference. The app enables you to view the sessions, connect with other delegates (please set your status on the app to "Visible"), and much more!
To download the app visit Google Play on Android, or App Store on iOS, and search for  CVent.
Once you have installed the app on your phone, search for IPWSO to select this conference. You will have received a code for the app, which we sent to the email address that you used to register. You may need to check your junk folder.
Keeping us all safe
Unfortunately, COVID has not gone away. As you are aware, we recommended that delegates were vaccinated before attending. Do feel free to wear your mask – supplies are available at the Registration Desk. Please continue to sanitize your hands and where possible, observe social distancing.
If you feel unwell and require assistance, contact us and we'll provide you with a testing kit. We and the University of Limerick will do our very best to support you. We'll miss you at the conference, but we'll all be grateful to you for staying away!  
Email us at conference@ipwso.org or telephone/text 07511 585700. If you are staying on campus telephone: 0035361 237500.
 Transportation between UL and the Castletroy Park Hotel
The Castletroy Park Hotel is within close walking distance of the University of Limerick. However, for those with mobility difficulties transport will be available as follows:

Thursday, Friday & Saturday
Departs Castletroy Park Hotel – 08:00
Via Cappavilla Village – 08:10,  arriving UL at 08:15.
Return journey – 17:40
Pick up University Concert Hall (Basement/Rear Entrance near to the Foundation Car Park)
Sunday – Departs Castletroy Park Hotel 08:30
Via Cappavilla Village (08:40), arriving UL at 08:45.
Return journey – 18:00.
Pick up as above.

Local Amenities
The nearest pharmacy is Castletroy Park Pharmacy , Unit 5, Castletroy Park Business Centre, Plassey Road, Castletroy. Telephone +353 61 201010. Opening Hours: Monday – Friday: 8.30am – 6.30pm, Saturday: 10am – 4pm. Sunday: Closed.
There is a convenience supermarket on the University campus which is open from Monday to Friday 08:00 – 17:00. This is in the Student Centre https://goo.gl/maps/SGHxsct6zf9SnpF77
There is also a local ALDI supermarket: https://goo.gl/maps/YS2ETavwPiJE3BQY9
This is approximately 2km from the University Campus.
On campus restaurants:
The Pavilion: Open every day from 09:00 – 23.00
The Stables: Open Monday – Friday from 08:30 – 18:00
Local taxi and bus service
The taxi and bus service are convenient to use within and around Limerick. We recommend using the FreeNow Taxi App, which you can find here: 
Local bus service information can be found here: 
https://www.transportforireland.ie/getting-around/network-maps/limerick-city-bus-services/
Transportation from airports / travelling by car
If you are driving from Shannon Airport to the University as you leave Shannon follow signs on the dual carriageway for Limerick City N18. When you reach the Ennis Road Roundabout at the end of the dual carriageway, take the N7 signposted Dublin. Take the Dublin Road out of the city and travel approx two miles to the Parkway roundabout. Go straight through at this roundabout. At the next roundabout, turn left and follow the signs for the University. (Please note that parking outside of designated car parks will result in clamping. There is a charge of € 125.00 to have the clamp removed). You may also take the N18 and M20 but this is a tolled road €2.00 per car each way.
 Alternatively, the best route from Shannon Airport to the University of Limerick is by Airport Taxi. This costs approximately €50 each way. See further information and book online by following this link: 
https://www.shannonairport.ie/passengers/to-from/airport-taxis/
For directions for travelling by road to the University of Limerick from various cities around Ireland, visit 
https://www.ul.ie/buildings/travel/travel-transport-main-page
If you are coming from Dublin Airport, the easiest route is to take Dublin Coach onto the University of Limerick Campus. The journey takes around 2 hours and timetables and online booking fares can be found here: https://www.dublincoach.ie/services/dublin-coach-journey-planner.php 
 Accommodation (for pre-bookings through the official registration website)
 Quigley Residence/Cappavilla Village, University of Limerick:
Map link here: https://goo.gl/maps/Doga1tz1oPmp7n7J8  
Check in for the Quigley Residence/Cappavilla Village is at the Cappavilla village reception, which is clearly labelled as you enter the village. There is a free car park for village residents. The village reception is open from 8am – 10pm, however, if you arrive outside of these hours, there will be a telephone number for you to call posted on the reception door. A member of the UL village team will then call down to provide you with your room key. Your shared apartment has a private en-suite bedroom, a fully fitted kitchen and living area (shared amenities). General Contact Number:  0035361 234178.
Conference Recordings and Photography
By taking part in this conference, you grant the organisers full rights to use the images resulting from the photography/video filming and any reproductions or adaptions of the images for fundraising, publicity, or other purposes to further the aims of IPWSO and PWSAI. This might include (but is not limited to), the right to use in our printed and online publicity, social media, press releases and funding applications. If you would prefer not to be photographed, email conference@ipwso.org or contact the IPWSO 2022 Team.
Safeguarding children and vulnerable adults while at the Conference
We want to ensure that children and vulnerable adults are protected from harm whilst attending the conference. To this end, all children and vulnerable adults must always be accompanied by a responsible adult, including throughout the specific conference programmes provided for those living with PWS. A copy of the University of Limerick's safeguarding policy can be found on the University's website.*  If you have any concerns contact staff at the Registration Desk.
Please note that the campus at the University of Limerick is strictly non-smoking and non-vaping. This includes both inside and outside buildings and extends to the limits of the campus boundaries.
Contact Us
If you need assistance, we're here to help.
Email: conference@ipwso.org,
Telephone or text: +447511585700
The Reception Desk will be open from 08:00 – 18:00 daily.
With very best wishes from
The IPWSO 2022 Team
*https://ipwso.org/wp-content/uploads/2021/08/PCC-Child-Safeguarding-Statement-Version-1_UL.pdf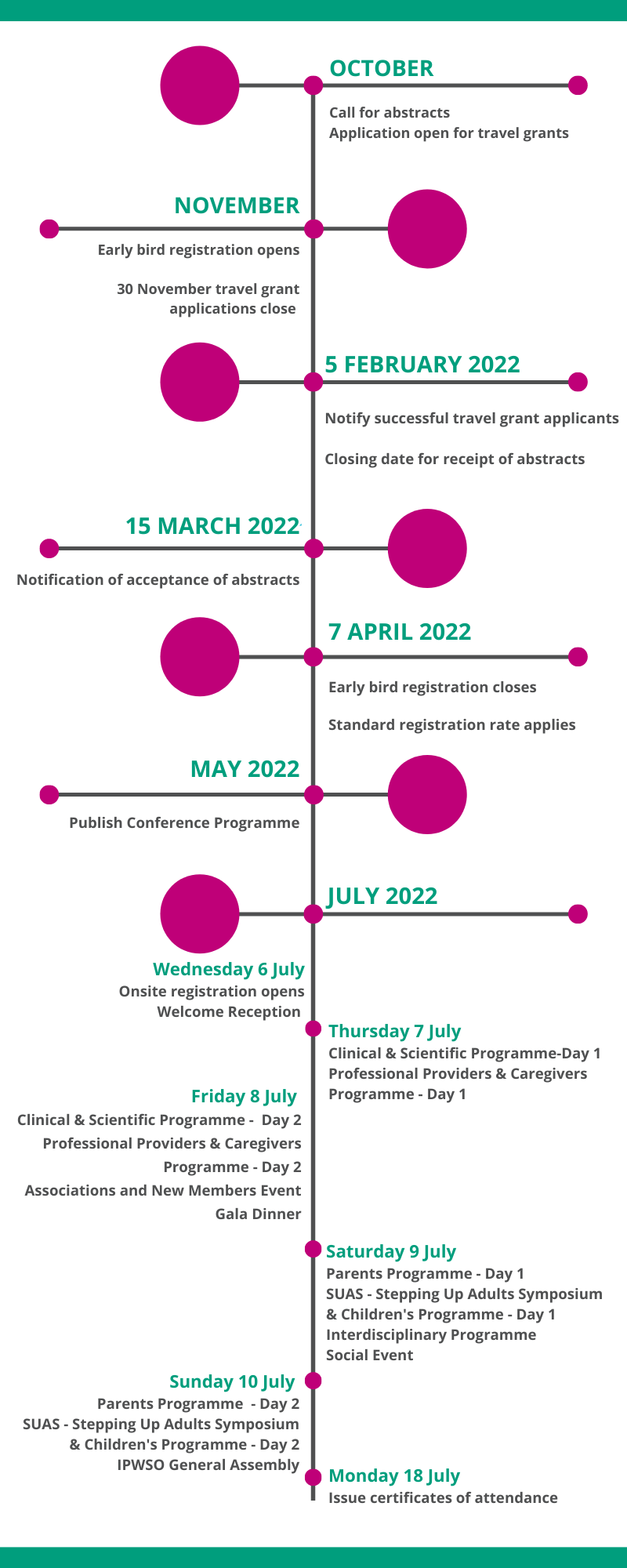 Conference countdown. Join our mailing list to receive updates.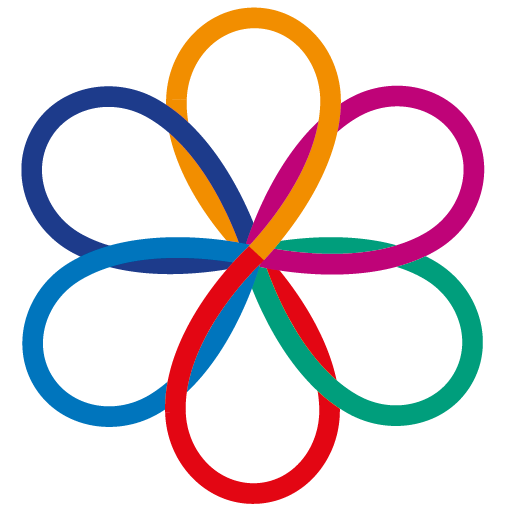 International Community
IPWSO was established so that PWS associations, families, clinicians and caregivers around the world could exchange information and support and have a united global voice under one umbrella.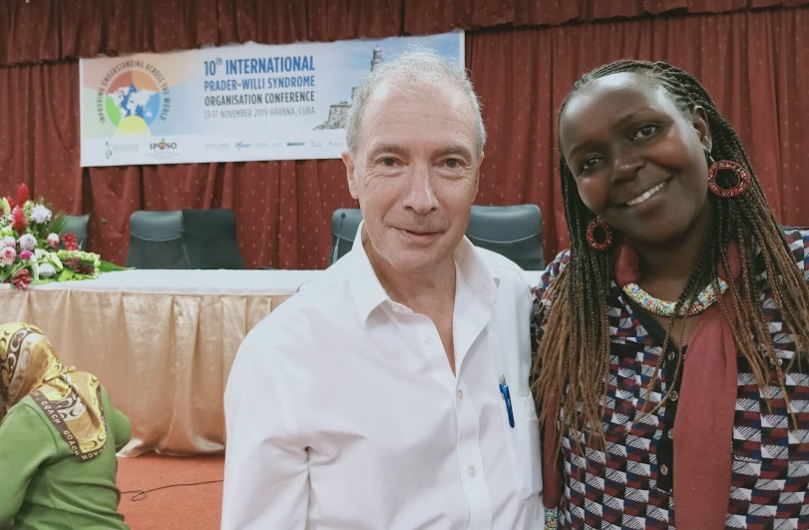 Information for Medical Professionals
The latest medical and scientific research and information, plus guides into common medical issues affecting people with PWS.
Find support in my country